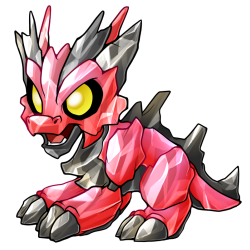 The newest cashie has been added to the cash shop. You can get a Gem Dragonling capsule, which will hatch into a complete set of adorable gem dragonlings as well as an unpainted. This unpainted is special because it's the first use of some new technology - the ability to change the opacity of the lighting layers. We can't wait to see what you all come up with!






The new set of monthlies has also been released. I bet you thought they would be holiday themed... well, surprise! It's a chess set! I wonder what the two sides will be represented by. Maybe there's some hints in the eggs! These will hatch 50/50 into normal and shinies, as is the norm in a game of chess. It just wouldn't be cricket if one side had 90% of the pieces!
One last note, we have unfortunately had to make one of our rules clearer due to recent events. We have always had a strict no cheating policy, which basically means that anything which gives you an unfair advantage is against the rules. We have had to expand this to make it clear that using browser add-ons or third party tools to automate
anything
on the site is cheating. You may not use browser add-ons to automatically refresh pages, open large amounts of pages with one click, or automate anything else. You must be physically clicking your mouse or keyboard, in a 1:1 ratio for interactions on the site. We can and do detect people using add-ons to get an advantage, and we will start being more strict on this because the rule has been made clearer. If you are unsure about anything, as the rules suggest, you should ask a mod or an admin, or perhaps just not do it!
3mOChick1993
(Member)

Soooooooooo is hotkeys included?

xXFrostXx
(Member)

I have adblock on my laptop but since I use CC exclusively on my phone now due the laptop is slow as heck, I am no longer using adblock. You're welcome, CC.

Loving the dragonlings and monthlies and thank you for the rule clarification.

helix9
(Member)

Ah, I really do enjoy using snaplinks. It's a shame that there's been a streak of cheating, and I'll make sure to remember not to use it anymore while I'm here.

Enderan
(Banned)

i'm glad to see the chess set coming out nice!

the dragonlings, i can only tell you the following: i LOVE them!

and oof, glad to read in the comments that using the ctrl button to open links is ok!

Cydewinder
(Administrator)

Ad blocker is not going to get you punished, although you really shouldn't be using it because it hurts websites like us and makes it harder to provide a service like this for free.

Opening multiple tabs by Ctrl clicking or middle clicking, then going through them one at a time is fine. You are doing one click to open each tab, and then one click to do the interaction in each tab. So it's a 1:1 ratio. Using snaplinks to open 50 tabs all at the same time is NOT allowed, as this is one click for 50 interactions.

The adopt all monthlies script, while at the lower end of automation, is not okay under the newly clarified rule. As you click once, and it completes a dozen interactions (adopt monthly, back to page, adopt monthly, back to page etc.). Each of these interactions must be a physical click by you. I'm going to remove that post.

Multifavs
(Member)

These adopts look very cool! :)

Xander
(Member)

Just for clarification, I do have one app installed and that happens to be the adblock for Chrome. I don't use it on this site since I purchase my premiums each month and don't have to deal with the ads.

Also, like Luvedragon, with this event, I have been going to see the online list of members and I click on each one to open their page, sometimes I have twenty at a time open, with that, I go and click on each one individually. Then I repeat the process until I've completed the list, then I start all over again. To me, that is not cheating - it is time management, especially if I'm at work.

Like, Luvedragon, I would like to know if this is okay to do. Thanks.

FireRose
(Artist)

Aw, the dragonlings are so cute! And hurray chess set! I'm super excited about this month =D

Leoniecute
(Artist)

I like the monthlies (last month and this month) and I like the new cashies! c:
Just to say, I have ad-blocker installed on my computer, even though I deactivated it on most sites including this one, sometimes the CE will boot me to the main page. That's fine, but I'm just explaining now that I always have it deactivated.

holy kris2
(Member)

If it's possible of course.

holy kris2
(Member)

@Cydewinder hey just a though maybe you guys should rotate the Capsule images just to look little different then being in the same position ever single one.

Luvedragon
(Member)

Just want a little clarification on a few things.
-Is using the middle mouse button to open individual pages okay? With one middle click opening one new tab at a time?
-Is switching between pages okay? Opera allows you to switch between tabs with the 1 & 2 buttons, and I know there's something similar for Chrome. Is this okay in combination of clicking whatever it is you're clicking on the tab you're on? So click > next tab > click > next tab etc.

Xander
(Member)

Def liking the new monthlies!
As for the Dragonlings - love them!!! Hopefully I'll have extra money after taking care of my bills to buy a second set! :D :D :D

@celenama You could say they are festive - just imagine the new monthlies as holiday decorations you can hang on a tree! lol ;p

Leomon2004
(Member)

Seiryuu created a GreaseMonkey script to adopt all monthlies. Is using it alright? This is the thread I found it in. http://www.clickcritters.com/forum/view_topic.php?id=62565

celenama
(Member)

Hmm as a major fan of the December Holiday season I'm conflicted with the lack of festive monthlies, but I'm glad to see a "reboot" on the chess theme.

And really loving the Dragonlings! I hope I can get a chance to grab a capsule or two ;w;

Cydewinder
(Administrator)

Yes, because it is publicly available and is one click/keypress per interaction.

Oblivion Flower
(Member)

Thanks for clarifying the rules. Question, is the script to click using the keyboard (http://www.clickcritters.com/forum/view_topic.php?id=59831) fine?

Rentzorz
(Member)

Thanks for clarifying. Love the idea.

Cydewinder
(Administrator)

@Rentzorz: 50/50 for all over 30.

Rentzorz
(Member)

50/50 monthlies, I can dig it. So levels won't matter for this set? or 50/50 of all over level 30?
You must be registered to post on this site.