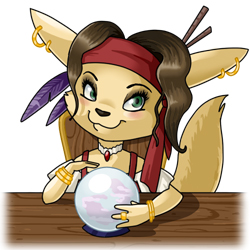 I need your help to prove Silver wrong. He's been claiming that I'm a fraud, but that's simply not true! I've set up a test to show that lizard that I am a genuine fortune teller, but I need your help!
Come and see me
to get started!



When you visit me I'll give you a group of lucky numbers. Once you have these, you'll want to collect fortune cookies from around the site. I've seen some scattered around on the ground, and also in the Click Exchange. I could also be persuaded to give you some on my page! When you open a fortune cookie in your inventory you'll get a number, if it matches one of the lucky numbers I gave you then you should come back to see me and put it on your card! If not, open another one!


Finishing a card will earn you fortune cookie points which you can spend on special lucky coins! These lucky coins have all sorts of neat effects. If you manage to have all the colors of your lucky numbers match, you'll also get a fortune cookie adoptable to call your own!


There are trophies to collect from this event too! The people who complete the most lucky number cards will get gold, silver and bronze trophies! And if you collect all the fortune cookie adoptables and then complete the legion, you'll get an awesome rainbow trophy!

I haven't mentioned the best prize of all yet! One of the lucky coins is the Traptop coin. I've worked with Traptop to come up with a very special smoothie recipe - the Lucky smoothie! You will need a Traptop Coin, coconut smoothies, and pastel colour smoothies to make the four new Lucky smoothies at the smoothie maker! These smoothies and legions will still be available after this event ends, but the coins won't be available - so make sure to stock up on coins even if you don't have all the smoothies you need! These designs were inspired by ShiningStarNova's idea in the Traptor colour idea thread! Well done!

There's also some phantom versions of the Lucky smoothies available in the
cash shop
! These smoothies will still be available after the event too, so you can save up if you need to!
Phew! I think that's all. I'll be running my trials until the end of June 24th! Make sure to ask any questions in the comments - this event has a lot of different parts!
picachuluvr
(Member)

How do you get the actual cookie adopts to put in the legion?

Cydewinder
(Administrator)

They'll be an exact placement trophy that will say you are # whatever.

Because of how I coded this, a leaderboard is troublesome. Maybe something will pop up, but otherwise you'll have to do your best regardless ;P

[_____]
(Member)

Quick question, will the trophies be a top percentage trophy or will the trophies also tell the exact placement a user got? If the latter, a leaderboard may be wise, if the former it'd still be useful to have a way to know if you'll place in Gold, Silver or Bronze tier at the end of the event given your current points.

nonobadkitty
(Member)

nevermind, I didn't see it gives 3 days of premium :)

nonobadkitty
(Member)

No reward for completing phantom traptor legion?

Cydewinder
(Administrator)

Amelia has also started giving fortune cookies with her free fortunes on the Wonder Wheel!
You must be registered to post on this site.