What Crowley giveth, Crowley taketh away
Posted on October 18 2017, 7:41 pm
---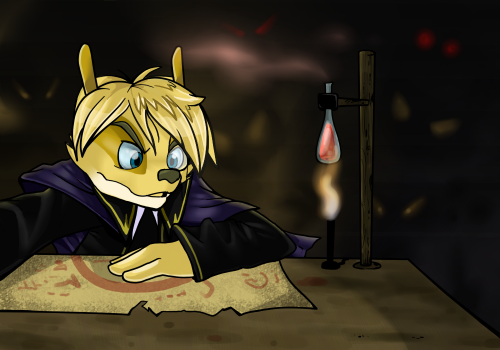 I will no longer be accepting your help to decode my tablets. I hope you took advantage and claimed all the prizes you could while I was still feeling generous. You see, recently I went onto the forums of this fine establishment, and tried to find a solution to my biggest problem - Jagger. I did not receive the welcome I expected, instead, I WAS BANNED. Me, Crowley, MUTED! And to make it worse, the Administrators didn't even acknowledge the carefully worded appeal I sent to their email address. Well now I've had it, I'm going to go back to my lab and spend some time with my experiments...
and none of you are welcome!
---
Coagulations, it's love at first bite!
Posted on October 18 2017, 6:10 am
---



Need some help getting into the Halloween groove yet? With less than 2 weeks until the year's spookiest night, let's
pumpkin
spice up the current QA Hunt with the
Bat Lyrun
, who are currently echolocating their way around at
Quality Assurance
. Stuff a few eggs in your bat pack and off you go!


No need to bat your eyelashes for more, we got you covered. To add a bat more flair to the
Click Exchange
, you can now also get your hands on the
Battime Cylin
. With the right battitude, the countdown to Halloween won't have to suck at all!
---
All dogs go to heaven... and some of them come back!
Posted on October 15 2017, 12:00 am
---


You know and love the many forms of Wish Kity we have around the site, but if you consider yourself more of a dog person, we've got just the pups for you! The
Wish Doge
is your little piece of dog heaven, so why not adopt one or two from the
Cash Shop
? With those rainbow swirls, they're sure to brighten anyone's day.
---
New Army Competition!
Posted on October 15 2017, 12:00 am
---



Last week's Army Competitions were won by:
[_____]
(Normal Army),
Phantom
(Trader Army), and (Collector Army). Congratulations!



This weeks adoptables are the
Christmas Camel
(Normal Army),
Cave Terra
(Trader Army), and
Raging Skulled Skyrant
(Collector Army).
Head on over to the Army Competition
to see how many you have!
---
Pretty scarves and scaley puffballs
Posted on October 10 2017, 8:19 am
---




Come one come all, and check out the debut of our latest team addition, the artist FireRose! It seems only fitting to release something that she drew and got approved on stream, so have a look at the
Kuzel
. This long furry scarf is now available in the various adoptable
shops
.
As an added bonus, we had some volunteers pick pricing and rarity. Because Kija likes to get you guys involved sometimes ;D



Furthermore, the
Click Forest
hosts a new type for you to hunt, the
Draygon Puff
. Like last time, we made sure its release fits right into the schedule of the Puff Hunt!
And this might be the closest you'll ever get to a Toothless Puff
Last but not least, if you failed to pay attention to recent newspost comment developments, or simply need a reminder, you'll be happy to hear that the sale in the
10th Birthday Memories shop
has been extended until the end of November. For your convenience, Cyde has added a countdown to the shop page, so plan accordingly!
---
New Army Competition!
Posted on October 8 2017, 12:00 am
---



Last week's Army Competitions were won by:
Roan
(Normal Army),
Roan
(Trader Army), and
Zaralt
(Collector Army). Congratulations!


This weeks adoptables are the
Gollreng (Power)
(Normal Army),
Sprouting Witlof
(Trader Army), and
Kiro (Neutral Yellow Baby)
(Collector Army).
Head on over to the Army Competition
to see how many you have!
---
Crazy how nature do dat
Posted on October 6 2017, 6:29 am
---



If you can appreciate natural* species dimorphism, look no further than the
Polar Buuri
, a fusion of the Polar Wuri and the Buusa, where the females sport a slightly less colourful fur than the males. In order to see for yourself, just pick up some Species Eggs from the
Freedom Forest
.
*
(Or is it? I mean they ARE experiments...)
---
Treat yourself!
Posted on October 3 2017, 9:10 am
---




Need some motivation for the current QA Hunt? Why not try and get your hands on these delicious
Banana Split Kitzi
? If you stop by
Quality Assurance
, you just might catch a glimpse of their sweetness!


And just like you guys, some critters absolutely love sweets. The
Hedgehaughty
, cousin of the Porcutepine, has been rolling around in the
Cash Shop
since yesterday on its hunt for treats. Maybe you can tame them with a few cookies?
And speaking of cashies, if you haven't paid attention to newspost comments in previous news, there is a smol chance for the Anniversary Sale to be extended... Fingers crossed!
---
Subject Here
Posted on October 2 2017, 1:25 am
---




If you haven't heard yet, the theme for our tenth birthday celebration is "memories". You're currently earning plastic easter eggs from Crowley, and I'm sure those meteorite fragments you're all collecting will all be useful in the future!
To help you remember some of the great times we've had here over the last ten years, we thought we'd do something we've never, ever, done before. We have re-added all the cash shop adoptables to the shops for you to purchase and collect. Many of these are no longer available in trades because the users with them have left the site, so now if your chance to grab some of those adoptables you remember but don't own!
You can access the 10th birthday memory shop through the Carnival, or by
clicking here
. Any eggs in the shop still hatch and work like they originally did (some have been removed due to mechanics that no longer work). All adoptables purchased will have the gold cash shop medal signifying that they are second edition cashies.
---
Don't artichoke on these!
Posted on October 1 2017, 8:16 am
---


The September 2017 monthlies have hatched. Did you get the NPC you were hoping for, or was there something unexpected amidst your eggs? We hope this month got you all fired up for the birthday celebration! 10 years is quite a time to look back to!



Now, if you're easily scared you might not want to look back at these... We're starting off October with part one of an edible (of sorts?) two-part monthly theme. This month, it's all about
Horror Foods
.
Flashbacks to being told to "eat your vegetables" sold separately.
Now, if you dare find out the terror that awaits this month, head on over to the
Freebies Tent
for your dose of healthy (and maybe yucky...) food selections!




That is not all however! The
Premium Shop
has of course renewed its stock as well. These
Saharma
look peaceful enough, and with all the spook that awaits you as Halloween approaches, we reckon that might be a good thing. Just look into their beautiful eyes and you'll immediately feel at ease!
---